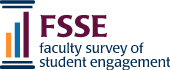 NSSE, FSSE, and BCSSE adopted new logos as of June 2010. It is not necessary to replace logos on previous reports and documents, but we suggest that any page that serves as an index to reports or products spanning multiple years should use the new logos.
Use of Logos
Institutions may use NSSE, FSSE, or BCSSE logos in their efforts to encourage students to participate in the survey. Institutions have used the logo on promotional materials such as:
posters and flyers
radio announcements
Web site news items or e-newsletters
YouTube videos
slide presentations
computer lab screensavers
Logos can also be incorporated into reports or studies of how NSSE results have been disseminated across campus, in Web displays of NSSE results, and in recruitment materials.
Find examples of materials that encourage survey participation and both print and Web examples how institutions have shared their results.