Four NSSE representatives – NSSE interim co-director Jillian Kinzie, BCSSE project manager Jim Cole, and NSSE Institute project associates Bridgette Holmes and Kriti Gopal – hosted an hour-long webinar for registered attendees via Zoom on Wednesday afternoon, highlighting insights gained from the 2022 Academic Advising Topical Module results.
Creating New Possibilities for Students Through Data-Informed Advising Practices: Lessons from the NSSE Advising Topical Module, primarily attended by campus contacts of institutions that used or have used the Academic Advising Topical Module, began by asking why institutions participated in the module. Answers ranged from monitoring student experience with advising during an institution's structural change of the department, to gauging student experience with advising during a time of dwindling faculty, to using the module every year since its inception for consistent measurement of advising quality.
Since its 2020 update, the NSSE Academic Advising Topical Module has been the most popular module offered, as it's been administered 650 times between NSSE cycles 2020 and 2023. For the current 2023 cycle, 167 of the 468 institutions using at least one Topical Module chose Academic Advising. It examines students' experiences with academic advising, including frequency of interaction with advisors and advising practices that reflect NACADA core values. It also asks students to identify who has been most helpful. The module complements a question on the core survey about the quality of students' interactions with academic advisors.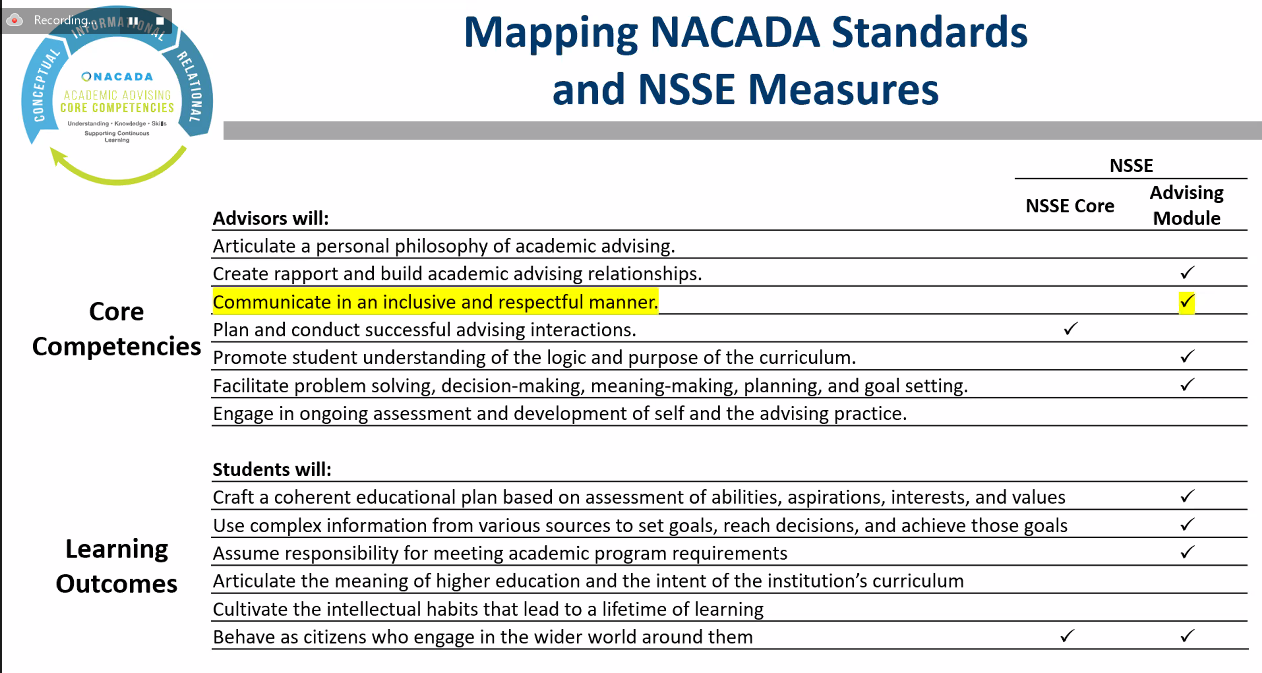 Digging into the results, Kinzie noted that 53% of first-year students who participated in the module in 2022 considered the advising quality of their respective institutions to be "very good" or "excellent." That number was at 48% for senior students.
While noting the quantity of visits with advisors -- 30% of respondents at Baccalaureate institutions noted meeting with advisors at least four times compared to 22% at Master's institutions and 21% at Doctoral institutions -- Kinzie directed attendees to the NSSE Annual Results 2019 story that revealed "the frequency of advising is not nearly as important as the quality of advising to crucial aspects of student engagement and success." For example, during the 2018-19 school year, more than half of first-year and senior students who responded to the Academic Advising Topical Module noted meeting with an advisor at least five times, but 49% of first-year students and 51% of seniors answered that the quality of advising at their respective institutions was "low" to "low-medium," short of "high-medium" and "high."
This led to the focal point of the webinar: Listening, Respecting, and Caring (LRC). This is measured on the Acadmic Advising Topical Module by the responses to the bolded items below:
Thinking about academic advising, how much have people and resources at your institution done the following?
Response Options: Very much, Quite a bit, Some, Very Little, Not applicable
Been available when needed
Provided prompt and accurate information
Provided information about learning support services (tutoring, writing center, success skills, etc.)
Notified you of important policies and deadlines
Reached out to you about your academic progress or performance
Followed up with you regarding something they recommend
Asked questions about your educational background and needs
Actively listened to your concerns
Respected your identity and culture
Cared about your overall well-being
Cole noted that the responses to those final three items within the set above yielded some of the most universally positive feedback to advising during the 2021-22 school year, particularly in terms of student identity.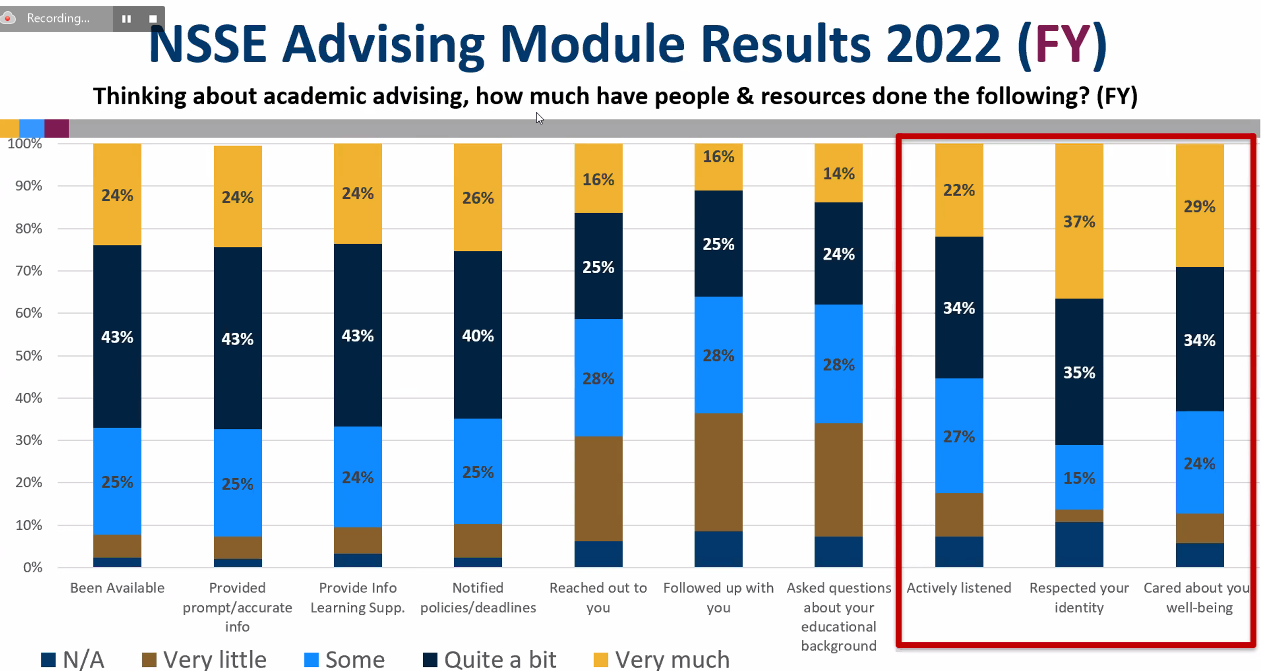 Read more about Advising LRC within the context of racial and ethnic identity from NSSE's 2020 Annual Results.
Regardless of Carnegie Classification, the institutions that received positive responses for LRCs of advising also received positive responses for quality of their advising. Kinzie stressed that this is not intended to show causation but to simply convey that where advising is deemed high in quality by students also is high in LRC quality.
In creating new possibilities for students through advising, the NSSE representatives noted the following points to consider:
Focus less on the number of interactions and more on the quality of advising.
Emphasize a blend of faculty, professional, and peer advising.
Ensure tech/online systems are responsive to fundamental issues.
How can tech/online, nudges, or peers help perform outreach about academic progress/performance and recommendations at larger, Doctoral institutions?
Assure attention to LRC, particularly care at Doctoral institutions.
Assess LRC measures following advising appointments.
Click the button below to view the full discussion, which also touched on online advising systems, under-utilized roles within advising on campuses, pressing concerns in advising from the attendees' perspectives, academic advising through the lens of identity, and advising students with undecided majors.