NSSE updates its popular Report Builder tool with data from the most recent administration. The Report Builder currently includes data going back to 2009, including data from all U.S. and Canadian participating institutions. 
You choose the group. We will show you the results.
For example:  
How engaged are your senior engineering majors? Do international students interact less often with faculty than their U.S. peers? How do your first-generation students compare to those at other colleges and universities? 
The NSSE Report Builder is designed to target specific questions such as those above about normative patterns of engagement. Through a simple series of steps, it walks users through the filter process, prompting them to query the following categories: 
Which NSSE survey administration(s) would you like to analyze? Keep in mind that we substantially updated NSSE in 2013. Data from 2013 and after cannot be combined with data from prior years.

 

Would you like to (a) compare students only within your institution

,

 or (b) compare your students with those at other de-identified institutions? If the latter, which types of institutions would you like to include in the comparison group (Carnegie classification, control, size, MSI status, etc.)?

 

Which student backgrounds and experiences should we include (class level, first-generation status, race/ethnicity, major field category, etc.)?
After selecting the data, and a quick review of the selections, the tool generates a table of results within seconds. Below is an image of a report built within the demo version, displaying 2022 Engagement Indicator results for Black and Hispanic/Latino seniors within NSSEville State University.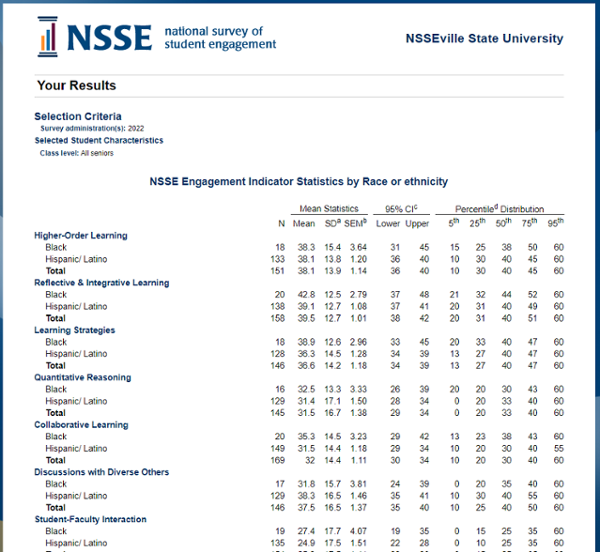 Participating institutions can access their data in the Report Builder by doing the following: 
Log in to the 

Institution Interface

. 

 

Go to the Data & Reports table.

 

Select the "NSSE Report Builder" link under the "NSSE/FSSE Online Reports" column.

 
Participating institutions may also find the following Report Builder resources helpful:
Tutorial Video: How to Navigate the NSSE Report Builder
Try a Demo Version of NSSE Report Builder
Interested to use the Report Builder to generate aggregate data for all U.S. and Canadian participating institutions? If you select the option to compare with other institutions, the tool draws upon data from all US and Canadian participants for the administration year you select. If you choose to combine multiple years of data for your institution, the comparison group will be restricted to the most recent year selected. Keep in mind that the comparison group includes all institutions as determined by your query choices MINUS your own institution's data.
Please contact NSSE with questions and suggestions. User feedback has led to improvements to NSSE over the years, and we value your partnership in assessing and improving the undergraduate experience.