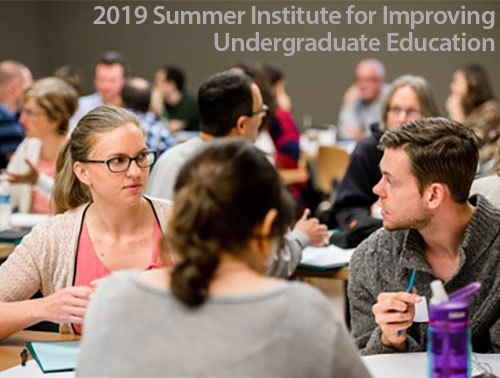 Apply to the Summer Institute for Improving Undergraduate Education – July 13-16, 2020. While the coronavirus situation is still evolving, we remain committed to delivering a robust and well-planned summer institute in July that ensures the high-quality experience you expect. To support our community, we are suspending all deadlines. If you have plans to bring a team to the summer institute, all you need to do is send a brief email to washcenter@evergreen.edu so that we can hold your spot.
If you are looking for highly effective targeted ways to leverage your NSSE data specifically to study and create more equitable high-quality learning and teaching experiences, consider bringing your team to an intensive adult summer camp on the Puget Sound—the 5th Annual Washington Center Summer Institute for Improving Undergraduate Education. We will convene July 13–16, 2020, with institute, housing, and meals on the campus of The Evergreen State College, Olympia, WA.
This summer institute will offer your campus team tailored resources, time to think and plan collaboratively, and a supportive network of talented coaches and presenters who will guide your team through the process of developing a two-year action plan.
Areas of focus include:
Learning communities
Guided pathways
Assessment of student learning
Accreditation planning
Faculty/staff development
Equitable student outcomes
Supporting adult learners
APPLICATION DETAILS
Successful teams have 4+ people, with at least one faculty member, one student affairs staff member, and one academic administrator.
Registration fees are $1,400 per team member. Email the Washington Center NOW at washcenter@evergreen.edu to hold your spot and ensure your team application is considered at the final institute planning meeting.
Fees include:
Lodging in Evergreen's apartment-style dorms July 13–16 (Thursday night lodging is included in the cost of attending).
All meals, served in the Longhouse Education and Cultural Center, with the exception of one dinner, for which you can explore Olympia's eateries.
Carefully curated plenaries and sessions to support your planning.
Dedicated support from skilled, experienced resource faculty.
NSSE will co-sponsor the 5th Annual Washington Center Summer Institute Improving Undergraduate Education in partnership with the Washington Center for Improving Undergraduate Education, and the Washington State Board for Community and Technical Colleges (WSBCTC).