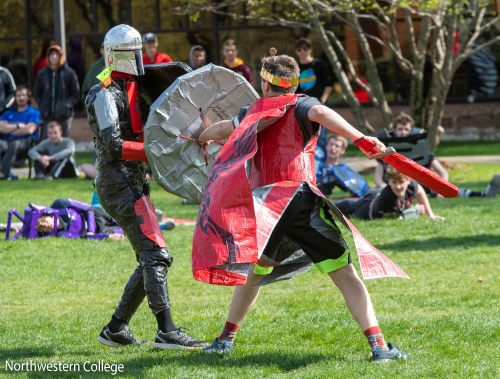 Students who feel they belong in college are more likely to stay and graduate. Sense of belonging items, including the extent to which students' feel valued, see themselves as part of the community and are comfortable being themselves at their college or university, were added to the NSSE core survey in 2020. Results provide participating institutions useful information about the overall level of belonging among students and, when disaggregated, can offer insights about variation by student subpopulation. 
Belonging results from NSSE 2020 offered Georgia Southwestern State University (GSW) a complementary measure to the academic mindset results that are part of Georgia's statewide efforts to increase college retention and graduation rates. Focusing on first-year student belonging results provided GSW information about the extent to which students connect with peers from different backgrounds, are involved socially, and attend campus events. These findings provided insight into what the institution could do to redesign experiences to enhance a sense of belonging and a productive academic mindset. Despite pandemic-induced disruption to undergraduate life and campus events, GSW has renewed its focus on developing interventions that help students find their place in campus life.
As colleges and universities act on calls for equity and social justice, it is essential for institution leaders to focus on creating campuses where every student can belong. Toward this end, St. Olaf College examined its NSSE 2021 sense of belonging results among students from marginalized identities.
The St. Olaf College 2020-2021 Institutional Assessment report, which presents results from NSSE 2021, BCSSE, FSSE and the Higher Education Data Sharing Alumni Survey, showed that domestic students of color, first-generation students, LGBTQ+ identifying students (especially first-years), and senior students with disabilities were less likely than their counterparts to feel a sense of belonging at St. Olaf. The Report also noted several populations where experiences did not differ or were more frequent for respondents from marginalized identities. For instance, first-year respondents with disabilities were just as likely to feel a sense of belonging and have an overall positive experience compared to student respondents without disabilities.  
St. Olaf's alumni results indicated a strong sense of belonging, and revealed several activities that contributed to belonging when they were in college. These included personal relationships with friends, professors, or staff; feeling genuinely supported both academically and personally; participating in social events or groups; and being explicitly invited into a group, organization, or other space. St. Olaf's NSSE 2021 results showed that students perceived a strong emphasis on equity and inclusion in the classroom, with more than 3 of 4 first-year students indicating substantial (very much + quite a bit) respect for the expression of diverse ideas in course work. St. Olaf explained that the stronger emphasis on course-based diversity, equity and inclusion is likely attributable to recent efforts to transform curriculum and teaching.
Institutions seeking guidance for using their sense of belonging results are encouraged to take advantage of the NSSE Data User's Guide: Sense of Belonging detailing approaches to examining data about sense of belonging. We also invite you to access NSSE's public Sense of Belonging interactive dashboard display in Tableau, where aggregate results may be examined by a variety institutional and student characteristics.