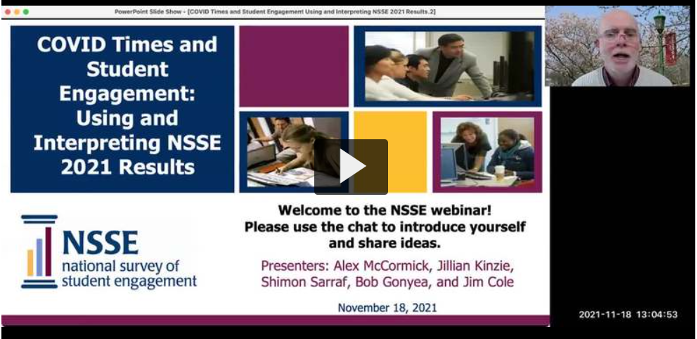 NSSE 2021 results confirm that the coronavirus pandemic continued to have an impact on higher education and students in academic year 2020-21. For example, as students shifted to mostly remote instruction, participation in high-impact practices such as internships and study abroad understandably declined. Students also had fewer of the usual opportunities for collaborative learning and interactions with faculty, but some may have spent more time in academic preparation. Results from NSSE's new Coping with COVID Topical Module further reveal the pandemics influence. First-year students in particular experienced a disruptive beginning to their undergraduate education, with 43% indicating that the pandemic substantially interfered with their ability to succeed as a student.
While AY2021 may forever be marked by an asterisk, it is nonetheless important to document and study students' experiences. NSSE 2021 participating institutions seeking to make good use of their data are encouraged to document the campus conditions during their administration and appropriately contextualize their results. Exploring notable changes in student engagement patterns from past administrations, examining results longitudinally, evaluating the appropriateness of comparison groups, examining differential impact on student subgroups, and deriving insights about how the disruption affected student engagement, are important considerations for contextualization.
To provide guidance to NSSE 2021 institutions seeking to contextualize their results, NSSE staff recently conducted a webinar, "COVID Times & Student Engagement: Using and Interpreting NSSE 2021 Results."
Key insights from the webinar include an analysis of institution-level trends on Engagement Indicators from selected Multi-Year Reports, showing dips in measures such as High-Impact Practices and Collaborative Learning. We also discuss how 2021 scores changed for institutions that also participated in 2018 or 2019. On average, measures did not change substantially, but seven areas saw significant decreases. Knowing how things changed at an institution level is a good first step, but it is important to examine what changed for student sub-populations. For example, traditional-age students showed more pronounced declines in Collaborative Learning, Student Faculty Interaction and Supportive Environment scores compared to older students. Finally, we share resources including the updated NSSE Report Builder that allows institutions to run custom analysis of their choosing and limit comparisons to only 2021 institutions, and the NSSE 2021 Summary Tables broken down by Carnegie Classification for additional comparative reference.
View the webinar recording, slides, chat transcript and additional resources.