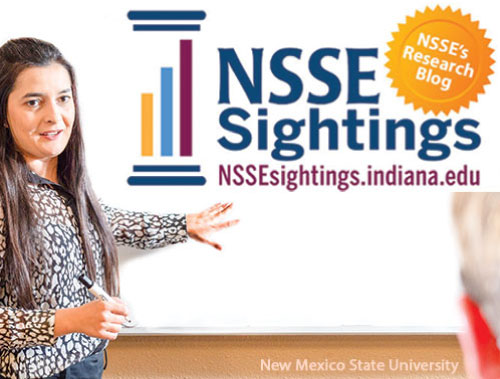 NSSE Sightings, NSSE's blog, shares current findings and more from NSSE, FSSE, BCSSE, and other projects at the Center for Postsecondary Research (CPR).
The latest postings highlight several new initiatives at CPR including a pilot survey of the HIPS in Practice initiative and studies dedicated to assessing quality and equity in high-impact practices. NSSE also developed a new Topical Module to assess students' career and workforce preparation. Other posts focus on tips for person-centered approaches to inclusive data analysis, using incentives and learning management systems to boost survey response, and trends in engagement over the last 20 years.
Be sure to check out NSSE Sightings, and if you sight good engagement-related research, findings, tips, or stories, please let us know. As always, we welcome your ideas and feedback!